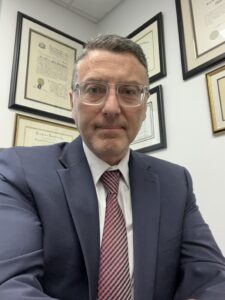 Born in Cordoba, Argentina. Education: Benjamin N. Cardozo School of Law (J.D., 1995). Published: New York Real Estate Law Reporter. Background: Assistant Ombudsman to Governor Mario Cuomo, Department of State; Clerk, Judicial Commission on Minorities. Member: New York State Bar; New Jersey State Bar; U.S. Court of Appeals, Second Circuit; U.S. District Court, Southern District of New York; U.S. District Court, Eastern District of New York; U.S. District Court of New Jersey; U.S. Supreme Court. Associations: New York State Bar Association, Trial Lawyers Section; American Bar Association; New York County Lawyers' Association; Association of Family and Conciliation Courts. Honorary Positions: Chairman, Business Advisory Council, 2003 National Leadership Award; Director, Chinese American Bar Association; Co-President, 5 Towns Civic Association.  Recipient: National Republican Congressional Committee, 2003 Certificate of Recognition; National Multiple Sclerosis Society, Certificate of Achievement, 1997 Interstate Bike Tour; New York Academy of Sciences, Certificate of Merit, 1994. Profiled: Who's Who in America (55th Edition), and Who's Who in American Law (13th Edition). Speaker: New York County Lawyers' Association, Solo and Small Firm Practice Committee, Oct. 10, 2000. Lecturer: Brandeis University, "The Interaction between Religious Divorce Law and Secular Family Law in North America; A Workshop on Practical Approaches and Theoretical Perspectives", (May 2017). Legal Expert: FOXNews article "Importance of Mother's Role Gives Britney Spears an Edge in Court",  January 22, 2008. Advisory Panel: American Bar Association, 2008. Favorite Quote: You don't drown by falling in the water. You drown by staying there.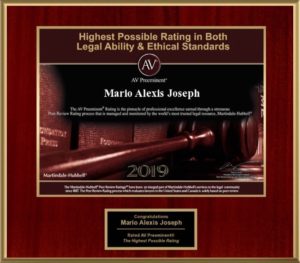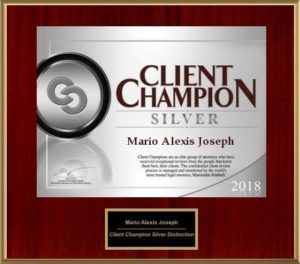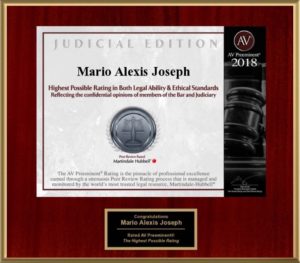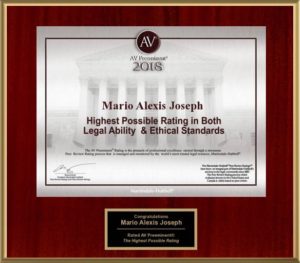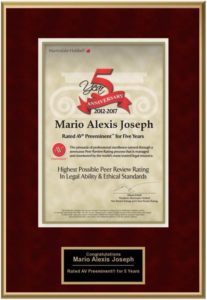 Representative Cases Include
Mizrahi-Srour v Srour (2016 NY Slip Op 02788, Appellate Division 2nd Dept.) a husband's support obligation was increased upon his refusal to give a Get, to correct the adverse economic consequences which result from his refusal to remove barriers to the remarriage of his spouse;

Kestler v Organization for the Resolution of Agunot, (Bergen County Law Division, 2017) pro bono representation of ORA when it was sued by a recalcitrant husband upset by ORA's facilitating of a Get process;

E. H. v. L. H., seventeen day bifurcated trial before Hon. Judge Anthony Falanga, Supreme Court of Nassau County, secured custody of minor child for father/husband, defended application to terminate parental rights by mother/wife in the mental health profession;

FAS Main Street v. C&Z 888 Inc., L&T No. 86324-99 (Queens, Feb. 3, 2000) against $113,000.00 rent arrears, petition for eviction of commercial tenant, and for dismissal of petition against officer-guarantors of respondent corporation in individual capacities;

Matter of Fancy Windows, 244 A.D.2d 484, 664 N.Y.S.2d 113 (N.Y. 2d Dept. 1997) against the judicial dissolution of a corporation;

Galvez v. Highland Care, 247 A.D.2d 363, 667 N.Y.S.2d 941 (N.Y. 2d Dept. 1998) for the disqualification of counsel in a wrongful death case;

Lai v. Huang Enterprises, (N.J. App. Div. 1998) against allegations of breach of contract;

State v. Jiang, (N.J. Super. 1998) for the dismissal of a criminal complaint on due process and equal protection grounds;

Matter of Local 32B-32J Service Employees International Union and EBM Development, (Case no. 9265, March 23, 1999) for the reduction of hours paid to union members;

Litigated a civil rights case (Liv Osby, Morristown landlord may change plea, Daily Record, Nov. 21, 1997, at A4);

Steifman v. Khenin, (decision dated June 22, 2011) nine day trial before Hon. Alan D. Scheinkman, Supreme Court of Westchester County, prosecuted and defended multiple causes of action between business partners involving claims of wrongful termination, breach of contract, breach of fiduciary duty, conversion, lockout, faithless servant, fraud, misrepresentation and claims for dissolution;

Eydelman v. Eydelman, jury trial on matrimonial grounds before Hon. Debra Silber in Supreme Court, Kings County. Unanimous decision on Aug. 4, 2011 for both constructive abandonment and cruel and inhuman treatment.